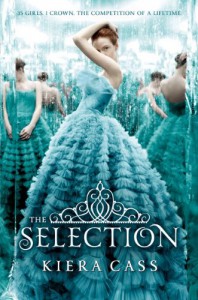 Facts
Title: The Selection
Author: Kiera Cass
Capacity: 327 pages, Paperback
Publisher: HarperTeen
ISBN: 9780062059949
Deutscher Titel: Selection
Series: 1 of 3 (Selection)
Text on the back
The opportunity to be swept up in a world of glittering gowns and priceless jwels. To live in a palace and compete for the heart of gorgeous Prince Maxon.
But for America Singer, being Selected is a nightmare. It means turning her back on her secret love with Aspen, who is a caste below her, and leaving her home to enter a fierce competition for a crown she doesn't want.
Then America meets Prince Maxon. Gradually, she begins to realize the the life she's always dreamed of may not compare to a future she never imagined.
My opinion
What I say:
When I read the text on the back of the book made me curious. Now that I read the book I found that living in a world like that is kind of scary. For me taking part in a competion like that would be a nightmare just like it is for America.
The book is writen in the perspective of America what means that all descriptions of new places, the other participants, all actions and of course of the prince are from the view of one person only. Something I really like in books. In this case it also is the best solution even though I would be interested in the point of view of some of the other girls and how they see the Selection.
Originally I'm not a fan of romance books and I was really sceptical if the love triangle which was mentioned in the text on the back would be to my liking. A great writing style and different plots make it easier to believe that I should take a look into that genre more often.
Conclusion:
I rate this book with 5 of 5 points. The second book is already waiting in my bookshelf for reading and I can't wait.