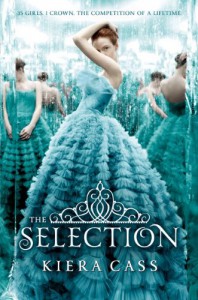 Title: The Selection
Author: Kiera Cass
Publisher: HarperTeen
Summary:
As a matter of fact America Singer does not want to participate in the Selection, in which Price Maxon should find a wife. On request of her boyfriend and her mother she finally decides to sign up but just because she is convinced she will never be chosen as one of the 35 girls who will actually move into the palace.
Much to her surprise she is one of the chosen ones. Suddenly she comes into a world in which she does not feel comfortable. But her family gets enough food what makes her stay in the competition for the heart of the prince.
She gets to know the prince a little better and is surprised that he is not the man she knows from television. She finds that it can be possible to fall in love with him.

My opinion:
The book is written out of America's point of view. That means that everything (new places, the contestants, the happenings and the prince) is described just the way she sees it. In general I think it is a good idea as well as it is for this book. Although I would love to know how the other ladies see the Selection. I of course see that the book cannot be written out of the point of view of 35 girls. It would not have an end that way. Still I stay curious.

I am not very fond of romantic books and was therefore very skeptical whether I would like the love chaos which is mentioned in the text on the back. A great writing style and different plots make me believe I should read this genre more often.

I grant 5 stars.